Without any doubt, Samsung is one of the most leading brands in the world. It has dozens of products and features aimed to offer you reliable services and an amazing experience. One of Samsung's most famous products is Smart TV, which takes you to the next level by offering dozens of features and downloading third-party applications. Besides that, many users don't know how to download apps on Samsung Smart TV. Therefore, the article is about to educate them on how to do that. Before getting to know how to download apps, you should be familiar with Smart Hub.  
What is Smart Hub? 
Smart Hub is a feature that makes your access to internet features and allows you to download and install the different app to keep yourself in touch with your friends and family members when using social media services. Additionally, you can view images, videos and listen to songs saved on external devices.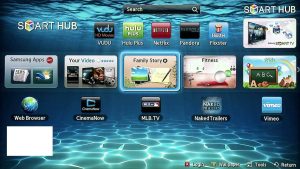 How to use Hub? 
Using Smart Hub isn't a problem anymore; you need to connect your TV with the Internet Connection either using a wireless or wired connection.  
Once done, set up the Smart Hub following the instruction given below. 

 

I

nstall

 the Hub to your device and 

open

 it by making a tap on the icon. Opening the panel will display different services like Game, Samsung Apps, On TV, Movie and TV Shows, and Multimedia. 

 
You can download anything offered by Smart Hub to have fun.  
Download Apps on Samsung Smart TV
We've compiled an article to show you how to download apps following a few simple steps. You should keep in mind that to detect the Smart Hub, it would be great if available, but if not, you should set up Smart Hub before performing any other actions.  
Run the Smart Hub button using your TV Remote. 

 

Choose the app under your favorite category of your choice. 

 

If it is difficult to find, we suggest 

searching

 for the application you need to install by merely choosing the magnifying glass icon.  

 

Enter the app's name you want to install

,

 and then click on 

the 

"Done" button. 

 
Click on the download button and open 

it 

if 

the 

download gets completed. 

 

Hit the open button to run the app once you found it is installed.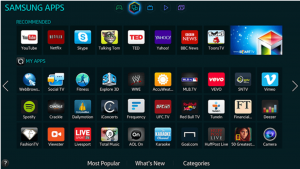 Conclusion
Downloading any of your favorite applications on your Smart TV isn't rocket science. If you are an Android user, then it can be done within a few clicks. You can download social apps like Facebook, Whatsapp, and Skype to keep yourself in touch with families and friends. Furthermore, you can play video games of your choice like Racing, Fighting, and more. The only thing you need to access the Smart Hub is the Internet Connection. Apart from that, there's nothing to download except for bringing files to any USB and run manually to download and install. Both methods are 100% working and help you download anything with ease.